Particpant's Review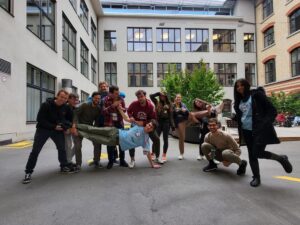 If I had to describe my experience in one word? Cheese. With two words? Ricola Vodka. But since we have time, let me tell you about it in more detail.
My first international event, my first time to Switzerland, my first time travelling alone yet everything felt so familiar! Everyone I met was super nice, from the moment my plane landed in Zurich and Frederico picked me up to the moment Arielle and me said our goodbyes at the airport, my heart was full of joy. (shoutout to Frederico and Arielle!)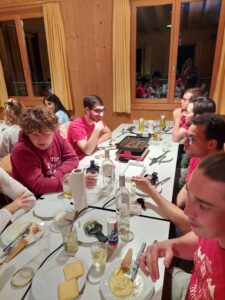 The first day was great and not awkward at all, the GTKEO games (Get To Know Each Other games) were great ice breakers and we all bonded very quickly with each other. Our first dinner was sooo good, and every dinner and lunch that came after was better than the other! Sean really poured his heart into the kitchen and it showed!
The rest of the days had us travelling to ETH and learning about audio filtering and amplifiers, lounging around their office playing pool and table football and overall having fun!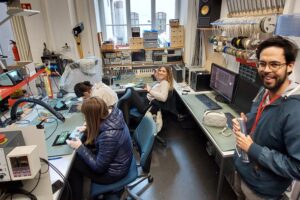 The workshop theme was very interesting and easy to understand, especially the part where we got to design and solder pieces on our very own PCB! And I say this as an agriculture student, don't ask me how I ended up in EESTEC. 😛 Victor made such a great teacher, he even showed us capacitors exploding on our last day! (for educational purposes of course *cough cough*)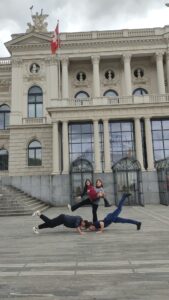 The city rally was a blast! I will not elaborate much on the beauty of Zurich because it's obviously a beautiful place, very clean, organised, and soo much green! Everywhere! The challenges were super fun and it was amazing getting to know the city through them. We were kind of late on our tour, so I didn't think we would win, but I still felt fulfilled by this experience and it was so worth it. (Even though we won!)
Now let's get real and talk about the serious stuff, the parties mannnn! I found out LC Zurich has great taste in music and a great taste of alcohol. Εveryday had us partying and dancing all together. They are in a party mood in general, wherever we went we were accompanied by music and beers. I learned sooo many new and fun beer games. The highlight of the event was the tram party. The idea of it at first sounded weird to me, but I thought to myself "Trust the process". And I'm happy I did because it was the best party ever. Also loved the goth dress code! It was the perfect excuse to try cool eyeliner styles. 🙂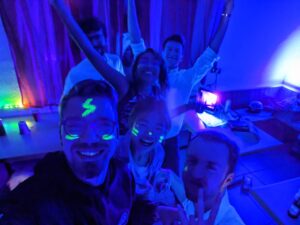 Moving to the IMW, the International Motivational Weekend, I have to say I was impressed by the nature I got to witness. At first, we were worried fog was going to ruin our weekend because we were up in the mountains with no view of our surroundings but in the next few days eventually, it went away! The first day was all about settling in, meeting new people, playing games and of course, partying.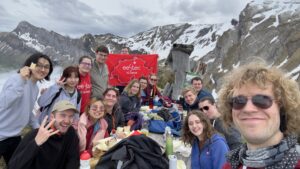 The second day was the hiking day. As a first-time hiker going up the easy route was both a blessing and a curse, but everyone was wholesome and supportive, so I kept my morale up and did not give up. It was so satisfying looking down from the top of the mountain! But the best part was going down. Then I got to enjoy nature and listen to her sounds, all while having great company by my side. The last party was on the same day. It was also one of my favourites, knowing my time there was almost over I poured my heart into the dance floor and enjoyed every last bit of it.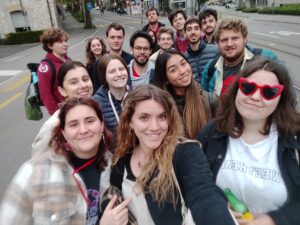 Overall, I met over 50 people and I was the only one from my LC. I did not feel alone once. I got to learn about new cultures and broaden my horizons in such an amazing and fun environment. I suggest everyone should go to an EESTEC workshop at least once in their lives, but after this experience, I'm planning on doing it multiple times! I have to thank everyone that made this event possible, all those caring and loving people from EESTEC LC Zurich, as well as all the participants that made this event unforgettable. Thank you guys, see you around Europe❤️.
– Vasiliki Tserentzoulia, LC Thessaloniki
Organiser's Review
Academic Part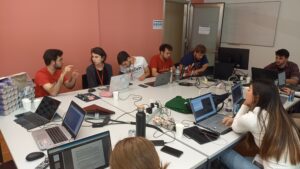 The workshop showed the participants the different steps of electronic hardware development in the example of an audio project. It started with circuit simulation and component selection from which the students deduced the schematics and later designed a PCB. In a further step, the PCB was assembled with soldering irons and tested. To conclude the workshop, the hardware was analysed using an oscilloscope to validate the initially simulated circuit.
The students learnt how to approach the task of electronics hardware development such that they can apply the individual steps to their own projects. Furthermore, the students are now equipped with a solid foundation in audio amplification theory, practical PCB design skills as well as soldering experience and are now able to use important tools like an oscilloscope.
As a little souvenir, every participant got to take home their own PCB that they soldered during the week.
In Detail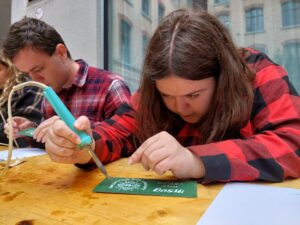 On Monday, participants got a quick overview of the theory of audio amplification and filtering and started with circuit simulation and component selection by reading datasheets. Furthermore, we held a theory session about PCV design and how to use the required software and helped the participants set up the PCB project.
On Tuesday, participants designed the schematics based on the previously simulated circuitry and layout of the PCB. They then reviewed the PCB in groups of two. The day concluded with an overview of the final PCB so that everyone understands its full functionality.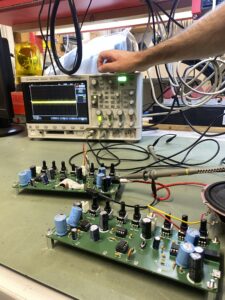 Wednesday started with the introduction to soldering. The new knowledge was then directly applied to working on soldering their own PCBs, one per participant.
Thursday saw more soldering as well as PCB testing with multimeter and application tests according to a test protocol. Then, participants also got an introduction to oscilloscopes and analysed their PCBs with an oscilloscope as well as seeing their new audio hardware in action.
Friday morning was dedicated to wrapping up the workshop with an overview and demonstration of what else there is in the field of audio amplification and outlooks on other possible projects.
Cultural Part
Sunday started with various get-to-know-each-other games, which were great icebreakers and allowed the participants to bond very quickly with each other.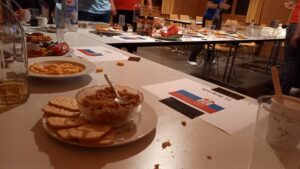 Tuesday night featured an international night, an EESTEC tradition: Every participant brings something small to eat and drink from their home city or country. We got to try foods from Turkey, Greece, Portugal, Italy, Serbia, and many other countries. As for the Swiss part, we had Raclette for dinner on the same evening.
Wednesday afternoon featured a city rally through Zurich with various challenges and waypoints that showed the participants around the city. They very much enjoyed it and it was also a great bonding experience.
In small breaks in the academic sessions, we also showed our participants from abroad around the ETH buildings, showing off our university to them.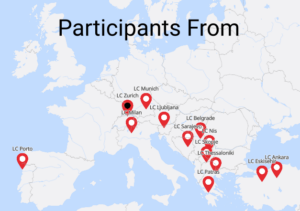 One more precious aspect of our workshops is the amazing opportunity to casually exchange experiences with people from so many different countries. It is not often that you have people from 10 different countries in one spot. It really increases one's horizon for what else is possible, how other countries solve the same problems, get exposed to issues not present in Switzerland and learn about different cultures.
– Michael Heider, LC Zurich, Head Organiser
















































































Collaboration

Logos