0th DAY 2004-01-10 – D-DAY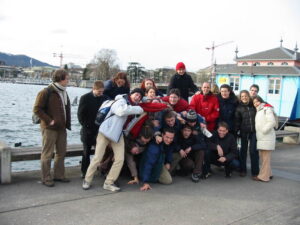 For me, it has all started already on 10th January. Saturday. At 9:30 we found ourselves at Zurich Airport. "PIII, PIIII" went off my mobile and on the display it said Gion. Later on, he also called. We agreed to meet at the main train station in Zurich. Half an hour later, we were shaking hands and hugging Gion. "Finally we have arrived", I thought.
We went to Gion's place and left our stuff there. Later on, we were to meet with other participants in the city. Dominik, another great guy from Zurich, had them in his custody. We went walking around Zurich a little bit, just to kill the time and later on we all met in the AMIV (the secret meeting place of Zurich BIG☺).
"Hmmmmm, some nice equipment they have here in AMIV, …", I thought when I walked in. It looked more like a nice afternoon hanging place than a serious student guild. That was nice. We had something to eat (Fondue with lots of Cheeeees☺) and then most of the people went home to sleep. Well, some of us went on as well, till the morning hours. By the way: Zurich nightlife, really kicks it!!!
1st DAY 2004-01-11 – RIGI MOUNTAIN, SNOWMEN & SAUNA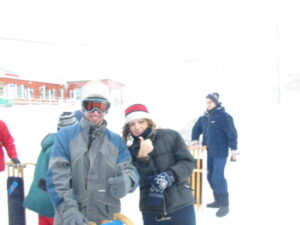 After coming home late (or early☺), it was pretty tough to get up, at least for me.
" But Swiss time is Swiss time": I said and got up! "11 o'clock sharp": they said. At the main train station. Near by the bus was standing, the bus that will take us to the only f-male mountain in Swiss Alps. The RIGI mountain. Due to some problems with the bus, Croatians were late. They were to join us later. So was one part of Slovenian representatives. They over slept. So finally we were drove off. An hour and bit of drive, trough beautiful Swiss landscapes, took us to get to RIGI.
Everyone grabbed their things and in little groups went to gondola, which took them to the little beneath 2000 m top. It lasted some time till we were all on the top, till we all were unpacked and back in the dinning room ready for lunch.
After lunch, 3 hour time to build the best snowman on RIGI. The prize for the first team was sauna, for all others free drinks the whole night☺.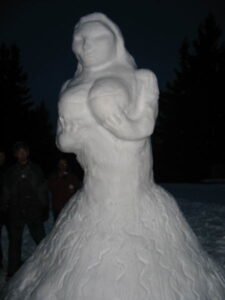 And so we started. First, one by one the teams started forming and the snowman-building competition has begun. The clock went off at 5 o'clock and the jury went some really nice, some really surrealistic and some fictional figures involved, but everyone put lots of energy into making their own snowman. That was a fact.
While the winners were heating up in the sauna, the rest of the people were getting ready for the welcome party.
The welcome party officially began with the speech of the president of LC Zurich, Gion.
Music, drinks, candles, dancing laughing and getting to know each other were the main activities. But surely one man was proclaimed a winner of the night. It was Jaska, who spend the night on a more alternative level, …☺
2nd DAY 2004-01-12 – SLEDGE RACING & MILITARY SHELTER
9 o'clock. "BOOM, BOOOM, BOOMM", someone was banging on the dishes, while coming into every room to wake up the people. Finally, until 10 o'clock more or last everyone got up. After a quick breakfast (something with cheese ☺), we went on a 1.5-hour walk to the train that would take us to the sledge race track. It was a nice refreshing walk in the mountains.
We reached the train, but just missed it for a couple of minutes, so we just sat down in a nearby hotel. Had a drink, took the sledges and went on the second train. "Everyone out": screamed Nicolas and a minute later we were standing in front of a fresh sledge track. All anxious and ready to sledge. We picked up our sledge partners, … 3, 2, 1, … the race has begun. There was no greater fun than seeing your opponent before you, crash into the fence, when the sledges, cap, gloves and lunch pockets were flying all over the place. If you managed not to finish like him for the rest of the track, the smile on the end was even bigger.
Every time the train took us up at the beginning of the track, there were fewer and fewer people who were willing to race and more and more holes on the track that were willing to stop us☺! But we didn't give up. The water in our shoes and the fact that you haven't felt most of your feet, haven't stopped us from going again and again and again and again, … till the train broke down☺!
After a while we all went from the mountain RIGI, to take a boat to Luzern. In Luzern, we got off and went straight to our new accommodation.
A military shelter. I must admit I have never seen such a clean military shelter. It was adventurous, interesting and funny. First, all of us took our shoes off. It was quite smelly☺. Then we all agreed that girls are first to shower because there were only 4 showers and all of them together. The bed system was very alternative: 3 floors, lots of beds, one room. Perfect to get to know each other better☺.
After the girls were finished, the guys went into the shower action.
At around 19:30 we left the place. We went to a Spanish restaurant in Luzern. Had lots to eat and drink there and came back just before 2 o'clock in the morning.
Most of the participants just went straight to bed, but some of us stayed for the after-Miguel-party.
3rd DAY 2004-01-13 – ORTHODOX NEW YEAR IN ZURICH
In the morning, the Luzern sightseeing tour was scheduled according to our guidebooks. So we went, well most of us. I helped clean the place and helped with making sandwiches. After the sightseeing tour, we all met, had a pocket lunch and got on the bus, which took us back to Zurich.
We left our luggage at ETH and went to a uni-mesa to eat something. Then it was time to go home and get ready to go out.
Our host has chosen to go to a sort of heavy rock bar. At first, the music was a bit harder, but then somebody apparently talked with the DJ, explained to him that there are people here who are celebrating, etc. The music changed radically. All of the sudden we were moving the tables to make the dance floor bigger and bigger. And in the end, everyone was dancing. LC Zurich proved to be a great host once again: we all got a beer from them☺. 10 seconds before midnight the music stopped and the countdown began. 3, …, 2, … 1 … HAPPY NEW YEAR!!! People started kissing and hugging each other. The only ones who were confused were other Swiss people sitting in the bar. They all had a face in a shape of a BIG question mark??!!??
After leaving that place, LC Zurich prepared us a few cartoons of beers, to drink just outside the bar. Then some of us went on to Nelson. The bar was already closing down, but we managed to persuade the DJ to give the music a bit louder. We stayed there until 2 o'clock. The way home was quite dizzy☺!!!
4th DAY 2004-01-14 – WORKSHOP, VISIT TO THE ZURICH TOP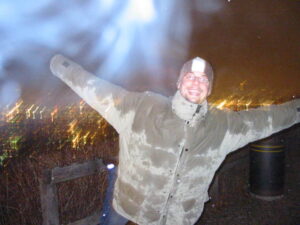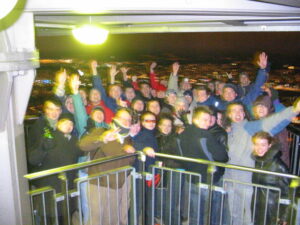 It was hard to get up, but we had fun on our responsibility and now it was time to show some respect to the organizers of the workshop. More or less everyone was there at 9 o'clock in the morning. We had some presentations and group discussions, which were very interesting from the engineer's point of view.
We were all given our own logins and passwords to use the computers during the breaks, which was a very thoughtful and nice gesture from the organisers.
Lunch was scheduled at mid-day, then we went around Zurich for a sightseeing tour, which lasted about 2 hours. And again lectures and group work till 19:00. All went to Uni-Mensa to grab something to eat. And then we went to visit the top of Zurich.
That was interesting, especially because there was some "Glüh-wine" left from some company's celebration. So we just drank it! ALL!
On the way down, we were given torches to lead us back down from the mountain safely.
That night was an early "going home"! Well, some of us stayed up till the morning, but that is another story.
5th DAY 2004-01-15 – HERTZ PARTY & A LOOONG NIGHT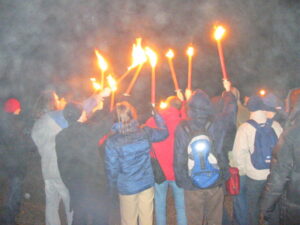 The ABB case study presentation at 9 o'clock in the morning got us interested and in the mood to do some serious work later on in our groups. We also heard some secrets and advice on marketing. Everyone was really enthusiastic about their group work, so we all went to dinner a bit later. Barley caught it!
After dinner, we went home to make ourselves ready (pretty and sexy) for the HERTZ-PARTY. That was some party! They've just moved the stuff out of the hall of mechanical engineering faculty. That was it! Let's have a big party.
So it was. 2 floors, one with standard music, the other with some hip-hop, house and reggae bits. All the participants have been given some free coupons for the drinks, which really came in handy at the party☺!
The party, as far as I can remember lasted until 3 o'clock in the morning. Then we went on (of course), to some place (nor the name, nor the way I don't remember). We stayed there for some time and I can remember that when the music stopped, we persuaded the DJs to put some more groovy, funky rhythms on. We stayed until …??!??
Our next "victim" was AMIV! Memories are very foggy here …, I know there were quite a lot of people.
Came home at 7 o'clock, and got up at 9 o'clock.☺
6th DAY 2004-01-16 – TRAM PARTY® & EESTEC MEETS POLICE☺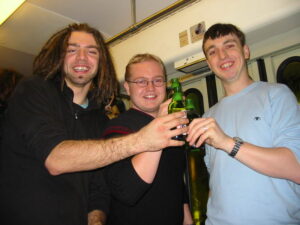 10 o'clock the discussion within the European context was on the schedule. Due to the last night's raving, we started a little bit late. The discussions got so "hot" that Nickolas had to stop us eventually, in order to go to eat. After lunch, we continued our group work and at 16:00 there was a Corporate Communication presentation from EDS. The guy that was making the presentation got us pinned down to our chairs, made us open our eyes widely and listen carefully. The presentation was really interesting. Especially because the EDS guy had a special eccentric, intensive and close way of explaining things. Some of us talked to him later on outside, one hell of an interesting guy! After some more group work, dinner was "ready".
No time to go home! NOPE! We just hit it straight to the FAMOUS TRAM PARTY®! Before starting this LC Zurich trademark party, we were faced with the basic rules we have to follow.
Everyone goes in the second wagon.
When one of the organisers shouts "Everyone out!", you grab the things you see around you in a radius of 360° and get out as fast as possible.
Then you go to take a leak and go to the other side of the road, to wait for another tram.
As long as we don't smoke on the tram, we are not breaking any law!
Beer is free and can be offered to any coincidence passenger (if you fancy them☺)
We are here to have a party. So all of you give it away!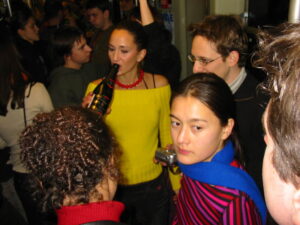 Our first victim was tram No. 2. At first everyone was rather calm. Not knowing how to behave, when we invaded a tram that was half full of people. I mean in most countries you would finish in the hands of the police. But not in Zurich, … or my be ??!?? Every minute became more and more relaxed, … people started dancing to the music that Dennis's TRAM HI-FI® provided for us. We started changing trams like madmen, and pissing on every station we stopped, like a horde of hyenas☺.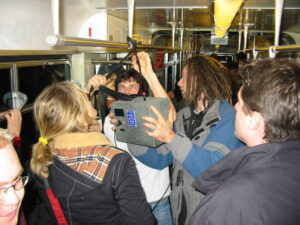 It was nice. Until the stop "Zentrum". The tram stopped. And we saw police outside. Somebody screamed "POLICE!! Let's all sit down!". And I can tell you that was some EESTEC, quality, fast, light-speed movement. In a matter of seconds, we were sitting, everyone on our own sits, like we were on the pension union trip. All calm, nice, relaxed, just arrived in town. We don't know anything, …?!??
But the POLICE cars just kept coming and coming, … and the tram was still standing. Well we all finally went off and the police approached. First they saw Pawel from Poland as a possible terrorist, so they asked him who is in charge. Then Dominik and Florian came (the fathers of the TRAM PARTY®). There was some talking and explaining to do. And then police went away. Dominik turned to us and said. Lets go on, … I was looking at him and couldn't believe it, we got caught by police, jumping, drinking, playing loud music, dancing, etc. and we were allowed to go back continue the same thing.
The explanation was: the police thought we were some demonstrators against the global trade congress which was held that week in Switzerland. Hehehehehe, …, … we surely were not demonstrators like that, but we were demonstrating how to have fun on a original, funky and stylish way. "Yeah, EESTEC meets police", Dominik said.
Later on we went to Nelson, but somehow after a while everyone went its own way.
That night it was raining really bad and when I returned home, everything but my underwear was socked.
7th DAY 2004-01-17 – PRESENTATIONS, FAREWELL PARTY & LOTS OF DRUNK PEOPLE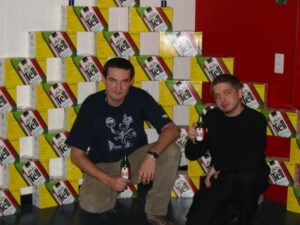 Saturday morning, even though the last night was tough, all of the participants came to ETH, to finish the presentations they have been working on throughout the week.
Presentations started around 15:30. And lasted till 19:30. There was also a representative from ABB listening to them. Between the presentations, he was also answering our questions about ABB. The winning presentation was SHMAD® (Swiss Home Made Alcohol Drinks). Marchin took us, with his presentation virtually to a home where Swiss home alcohol can be made. We were laughing and at the same time carefully listening to Marchin and the others in his group. It was funny to see a small man from Poland explaining a totally superb capitalistic approach on how to gain the market with his product in the middle of Switzerland☺. The first prize was the least they could get. A Swiss knife, with the BIG LC Zurich logo on it.
All of us also got a present from ABB, before going home to get ready for the farewell party.
Farewell party. The place was a little off the centre of the city, but it was fantastic. Pool table, table football, sofas, loud loudspeakers, …
Organisers made some home-made salads for us. They were all really good. There was more than enough drink for everyone and also cakes were on the self-service table. We kept dancing, jumping and drinking into the night, … the night was long, we were still young, … and nobody realized that this was a farewell party. It was really nice.
That was also the reason that there was a mass train missal in the morning. The Romanians and Nevena haven't made it on time, … Another proof that the party was good! Me, personally, I don't have any idea when I came home, or how I came home, … I wonder why?!? ☺
8th AND LAST DAY 2004-01-18 – EVERY STORY HAS AN END…
It was a departure day. A sad day. Tired day. It felt like something very nice and beautiful was to end. And so it did. It was the last day of Zurich BIG. We met at AMIV at 15.00. Some people came there already packed and there was this hidden bitterness in the air. We all knew that this is the day when we say goodbye to each other. People start leaving Zurich one by one, … and all was over. But I am sure they came home with a great experience and lots of nice memories, that LC Zurich made possible for everyone.
LC Zurich guys and girls: This was one of my best events in EESTEC history! I learned lots of things. And not for a moment I didn't regret coming to BIG Zurich event.
And to all of you who didn't come to the event because of exams, or some other silly things:
Memories, funny moments, situations, smiles and friendship bonds that were built among the people involved in BIG Zurich event will always stay in our hearts and eyes, as far as the exams are concerned: it is just another grade in your index that you don't remember in a few years time.
LC Zurich you proved to be one of the biggest and best LCs (as far as I'm concerned). Keep up the good work.

Borut Čeh, LC Ljubljana