EESTEC – Dream (or Trauma?) Review of a Survivor
I have asked EESTEC for a statement regarding this article. Unfortunately, no one responded to my request within the three-minute response period.
It is the second week of lectures of the fall semester of 2021.1 It is 9 a.m. and I am in a bad mood. If you wonder why, please read the previous sentence again (9 o'clock!). Annoyed, I look at the clock. There it hangs. Completely relaxed on the wall. And yet it rubs the unforgivable truth in my face. I would be on break for exactly 42 seconds. How dare the professor overrun in the first hour??? I skillfully ignore the fact that we started the lecture three minutes late. I also ignore the fact that the clock in this room is two minutes fast.
Finally, Break. Unconcentrated, I glance at my transcript from the last class. It seems to turn more and more into mystical hieroglyphics with each passing second. Well, I didn't understand what I wrote down, but I can look at it again at home and then everything will surely become clear to me.2 Just as I'm about to get up, a person dressed in red comes in through the side entrance. No. Don't you dare! I'm on my break! If you go ahead, then… While I'm still thinking about what exactly I'm going to do, he connects a computer to the projector and begins to narrate. He asks us to remain seated for a moment and listen to them??? Certainly not. I'm on break!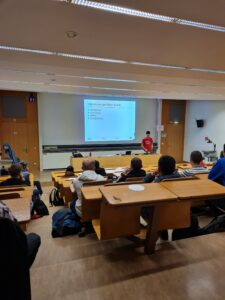 On the other hand, it would be pretty rude to get up and leave now. Damn, my Bünzli-gene kicks in. So, look interested and don't let on anything. "Blahblahblah … EESTEC … blah blah blah… Europe-wide organization of electrical engineers, mechanical engineers and computer scientists … blah blah blah… cultural exchange … blah blah blah… Europe-wide travel." Hmm, have I actually checked my emails yet? I open them, press retrieve new emails. Of course nothing. This feels really stupid now. Are these idiots in front really still talking???
I look back down at the EESTEC guy and try to listen carefully. From up here, he looks tiny, almost like a dwarf. If he were really that tiny, I could just crush him with my thumb. Examining him, I close one eye and stretch my thumb forward. When I realize what exactly I am doing, I immediately lower my hand again. I don't want this break robber to think I'm advocating this nonsense.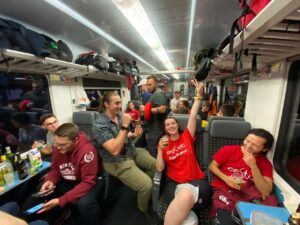 It's going great with concentrating. So, full focus mode now. He's showing pictures of places and events that EESTECers have been to. In the pictures, you can see even more figurines dressed in red that seem to be having a lot of fun at various places all over Europe. I'm sure it's all Photoshop. After all, everyone knows that for ETH students, words like "free time" or "fun" are just empty shells whose meaning is forever etched out of their brains during the first weeks of lectures.3
Finally, they show a QR code with a link to a welcome chat. Well, actually, it can't hurt. So I scan the QR code and join the group. But don't you dare spam me!
In the following months, I gradually forget about the group again. The few messages that are sent, mostly invitations to events of EESTEC, are punished with ignorance.
Shortly after the beginning of the spring semester, one message actually makes its way into my consciousness. ORGASM 22 is coming up4, the apparently legendary ski weekend of EESTEC. Skiing is something I'm actually quite fond of. After delaying the decision until the last second, as usual, I actually sign up for said event. I'm sure the people will be really antipathetic. But it doesn't matter, skiing is also fun alone.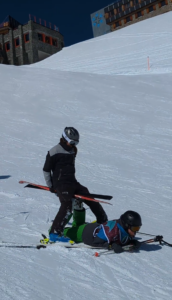 Four weeks later, I'm standing at the main station at eight in the morning and the journey begins. After making my first contact with the international guests on the trip, I finally put on my skis. The prepared challenges and the wonderful weather make the day fly by. Afterwards, it's off to après-ski.
There are many legends about the rest of the weekend. But I can definitely say that it was an absolutely unforgettable weekend. Where unforgettable is perhaps not the most appropriate term. If I'm honest, as of 9 pm on Sunday, I have no memories left.5
Alright, maybe I judged EESTEC too harshly. But nice and slow, this was only one event, everything else is certainly really crappy. From then on I visited one or the other member meeting6 and got to know more and more people from the club. In the summer, I was accepted as a full member during the so-called "Motivational Barbecue".
Then came the learning phase and it became quieter around EESTEC.
Until one fateful evening #occupyMarmaris8 "Worth to wait" was announced. A five-day exchange in Marmaris, organised by EESTEC LC Ankara.7
Thanks to purposefully placed surreptitious advertising in certain EESTEC group chats, I was reminded of this event again and again in the most unobtrusive way. After a very, very long back and forth (aka mimimi, I don't know if I should go) I finally signed up.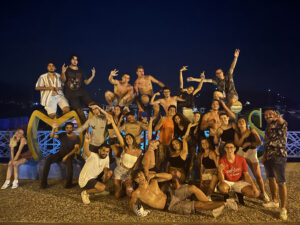 This week was a whole different story again. I met people from five different countries and had absolutely unique experiences. Be it to perform a traditional EESTEC dance loudly at three o'clock in the morning in the middle of Marmaris and then run away, afraid someone might call the police because of noise pollution, to go home dancing from the club at two o'clock in the morning or to jump into the hotel pool at one o'clock in the morning slightly drunk. The latter, by the way, is only moderately well received by the organizers. But it was still worth it.
Also, culturally the whole thing was extremely impressive. But before I tell a few anecdotes, I would like to emphasize that I was only in Marmaris for five days. So my experiences are only a short snapshot and do not have to correspond to the ordinary.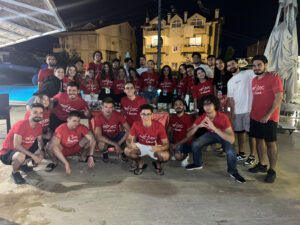 For example, the traffic system in Turkey. Officially it is very similar to the one in Switzerland, but there they interpret the implementation a bit more relaxed. There it is normal to simply walk out onto the street despite red (!) pedestrian traffic lights and thus "stop" the cars in this way. I always generously let one of the locals do that. Another example would be cars staying in their lanes. If three cars fit on two lanes, then sometimes there are three cars in two lanes.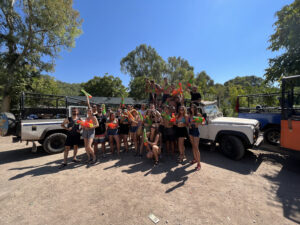 From other international people, one could learn a lot about their countries. I have seldom felt so out of place as in the moment when a Pole and a Turk argued about which of them has the more broken government. As a Swiss, you can't contribute that much to that. Another time, a Slovenian told us that you could drive way too fast in their country without any problems. As long as you give the policeman 20 euros, there are no problems.8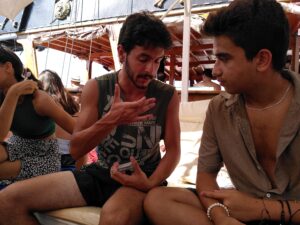 A very special highlight for me was when a Turk asked me one day about the game «Asshole», which he had learned half a year before during an EESTEC workshop in Switzerland. As befits a super-Bünzli, I had of course packed some Swiss "Jass" cards and we were able to play a few rounds of «Arschlöchle». When I wanted to give away my "Jass" cards at the end of the trip, it almost came to a fight between the Turks about who gets to keep the deck of cards.
I was slightly cynical about EESTEC at first. But after I had the chance to meet the people at some events/parties, I have to admit that my first impression of EESTEC was completely wrong. In the meantime, I am 100% for the association. I love to meet cosmopolitan people from all over Europe and learn something about their culture. EESTEC manages to unite people from all over Europe, unlike any other association. Because here it's all about the people. Not about the origin.
And if one or the other anecdote has awoken your interest: You're welcome to stop by one of our member meetings. The next one is soon, see www.estec.ch/join. If you want to know when the next events take place, shoot us an email to contact@eestec.ethz.ch. Or talk to one of the many people walking around in red T-shirts.
Yes. You fell for an EESTEC product placement. But if you've made it this far, you might as well join. 😉
---
Footnotes
Or about 5021 years after the invention of beer. Source: The first result on Google.
I really like to lie to myself with this statement.
Why do you think we have so many chemistry/medical students at ETH?
ORGanised Annual Skiing Madness. If you think the abbreviation was chosen first and the name afterwards, you are right.
The hut for next year is already reserved. Keep an eye on the AMIV website if you don't want to miss the event.
Our member meetings take place every other week in HG. Interested people are always welcome.
EESTEC – English Dictionary:
LC = Local Committee, this is the name given to the various branches of EESTEC throughout Europe. For example, we are LC Zurich.
Exchange = You travel for five to seven days to another country and can have cheap vacations organised by local people.
Much too fast in this case means about 180 in the 80 zone. It only gets bad once you drive more than 2.5 times the official speed limit.