Overview
Organised Events
1.-8.5.2022 workshop Beginner's RUST excursion: A speedy tutorial & IWM
12.-14.3.2022 Organized Annual Skiing Madness 22
1.6.2022 board elections
10.7.2022 Motivational BBQ
[semester] member meetings Thursday every 2 weeks
Events Visited Abroad
15.-22.5.2022 Spring Congress & IMW by LC Belgrade, Serbia
24.-29.7.2022 Slovenija, the Last Wine Bender Exchange & IMW by LC Ljubljana, Slovenia
16.-19.6.2022 Alumni Summit by LC Ljubljana, Slovenia
22.-24.7.2022 Midsummer Fireflies' Night IMW by LC Krakow, Poland
11.-16.09.2022 #occupyMarmaris8 Worth To Wait exchange by LC Ankara, Turkey
Plans Next Semester
7.10.2022 Tour in Turicum
14.-16.10.2022 Invasion of Kranjska Gora, Slovenia
11.-13.11.2022 IMW in Zurich
TBA: Cosplay Party
TBA: SitSit (Finnish student tradition)
TBA: Alumni "Chääs" event
2022 Spring Semester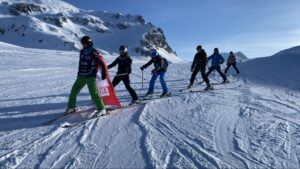 As has become a tradition in EESTEC LC Zurich, the spring semester kicked off with our internationally renowned and popular ski weekend, the Organised Annual Skiing Madness. The 2022 edition took place in Davos again, this time with 53 people. Among them were our members from here as well as international students from other EESTEC LCs (EESTEC at other universities) – be it from Slovenia, Germany or Greece. Also many faces from AMIV and VIS. This was a great opportunity to have people here again after another Covid break.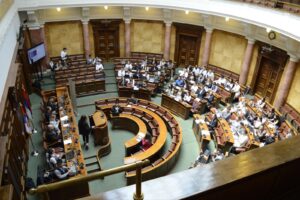 The Spring Congress, the international general assembly of EESTEC, took place in Belgrade at the end of May. This is the follow-up to our Congress last autumn here in Zurich. We sent two of our members there to spend a week discussing the future of EESTEC, electing a new board and getting to know the city. The event took place in the Serbian parliament building, in the Chamber of Commerce, as well as in the National Bank. Afterwards, there was a big party weekend on-site, to which many more LC Zurich members travelled.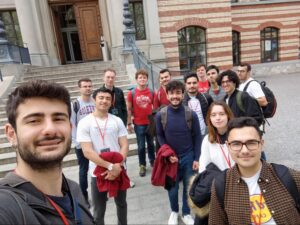 At home in Zurich, another of our international events took place immediately before congress. Our workshop Beginner's RUST excursion: A speedy tutorial taught the students who came to the event advanced knowledge of the Rust programming language. Once again, young people from all over Europe came together for a week to learn skills. The academic part was created and led by one of our alumni. In addition, the cultural part was not to be missed, be it on an ETH tour, playing Rage Cage or at the tram party. One participant commented, "The sight of 'Äpplermakkaronen' looked so wrong but they tasted so right." The workshop ended with the corresponding International Motivational Weekend, where we went to Lake Constance and relaxed at the end of a busy week.
In addition, our bi-weekly member meetings took place as usual. Where possible in presence, where not digital or hybrid. After each meeting, we had an after-meeting with either a cosy get-together, beer pong or other activities. At the end of the semester, we had our board election for the next year and our typical summer barbecue, so that we could meet again over the long summer and spend time together.
Also, during the semester, as part of the EESTEC Couchsurfing Community, some international EESTECers came to visit Zurich and were hosted privately by our members. Conversely, LC Zurich members also toured Europe on the same principle.
In addition to the above events, some internal progress was also made. The last tasks of the Autumn Congress (the international EESTEC GA) from last semester were completed. We also tidied up our internal data and stored it neatly on the VSETH Google Workspace. Our email system, which has served us well for many years, was revised under the direction of Bastli.
2022 Autumn Semester Preview
The autumn semester kicks off with our annual invasion of Kranjska Gora, Slovenia! A whole bunch of ETH students are travelling there again this autumn by night train to spend a weekend getting to know EESTECers from all over Europe! New faces are always welcome!
We are also planning our city rally through Zurich again and will be present at the Ersti Rally, too.
After that, we are planning a party weekend in Zurich to bring Europe back to Switzerland, ideally for the first time since Corona directly under Zurich in the Bunker.
In addition, our Member Meetings, which always include an After Meeting, will take place every two weeks. Last but not least, we plan to go skiing and snowboarding in the mountains again at the beginning of the new year.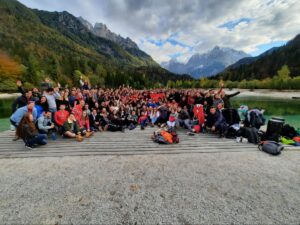 Are you confident and like to talk to companies at eye level to raise sponsorship money? Or are you a creative mind and would like to contribute your ideas to our planning? Or do you like to come up with unusual ideas for parties? Or are you simply open-minded and would like to show our European guests the best side of Switzerland?
You too can visit one of the many events abroad free of charge. You can find a selection at eestec.ethz.ch/blog. Come to one of our bi-weekly meetings and ask your questions to contact@eestec.ethz.ch or directly to us if you see someone in our bright red T-shirts/hoodies 😉
On behalf of EESTEC LC Zurich
Michael Heider
Chairperson EESTEC LC Zurich
contact@eestec.ethz.ch